May 27, 2008
From Sunday, motorists who don't inform insurers in time will forfeit part of their no-claims discount or even insurance cover
By Christopher Tan
FROM Sunday, motorists must report all accidents – no matter how minor – to their respective insurers within 24hours or part of their no-claims discount (NCD) will be docked.Worse, their insurers might not cover them if a claim is filed against them.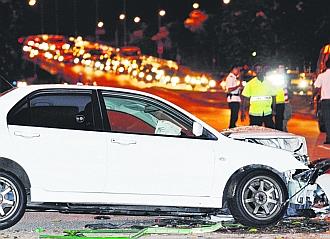 This tough stance is the latest attempt by the insurance industry to curb runaway claims, which drove motor underwriting losses to a five-year high of $103.2 million last year.
The picture continues to look bleak this year: In the first quarter, motor-underwriting losses hit $35.3 million – nearly treble that for the same period last year.
Insurers reckon inflated claims are a major cause. These claims are often filed well after an accident.
Although it has long been a legal requirement to report all accidents, this is the first time insurers are insisting on a 24-hour timeframe so 'fresh information' is at hand.
Insurers also believe people are less likely to lie or have less chance to collaborate with workshops to submit inflated claims within the first 24hours of an accident.
In announcing the new step, the General Insurance Association (GIA) – which represents about 30 motor insurers here – said yesterday that car owners will lose 10 percentage points of their NCD if they do not comply.
NCDs are given annually to motorists who have not made accident claims, up to a maximum of 50 per cent of their annual premium.
So a motorist who pays a premium of $500 after a 50 per cent NCD and does not report an accident to his insurer within 24hours would have to pay $600 the next time he renews his policy.
Motorists with no NCD will not suffer this penalty, but the GIA warned that those who do not comply with the new rule are in breach of policy terms and an insurer would have the right to refuse their claims.
GIA president Derek Teo said drivers must report an accident even if there is no visible damage to the vehicle.
'You may have shaken hands with the other driver and parted in good faith but, in real life, he could well file a claim against you months later,' Mr Teo explained.
To make reporting convenient, all insurers will have 24-hour hotlines.
When a motorist calls, he will be told which workshops he can send his vehicle to. He must then take his vehicle to it within 24 hours or by the next working day.
The GIA will launch a public education programme to tell motorists what they must do in an accident. The drill includes exchanging particulars with the other parties involved, taking note of identity card and contact numbers, home addresses and names of insurers.
Motorists are also advised to take photos of the vehicles involved in the accident whenever possible.
Most crucially, they must avoid unauthorised tow truck or workshop representatives, who often tout at the scene of an accident.
Mr Teo said he is 'pretty confident' the new scheme will reduce inflated claims 'because for the first time, we have the support of all insurers'. This being so, he is hopeful there will be little need for premiums to rise.
Past efforts to curb contentious claims include the setting up of independent damage assessment centres (Idac). But most insurers found the scheme was either not cost-effective or plainly ineffective.
The latest plan has the support of other quarters. Consumers Association of Singapore executive director Seah Seng Choon said it will 'go a long way in minimising the need to resolve claims and other disputes' between consumers and insurers.
Automobile Association of Singapore senior manager Leslie Wong added: 'We can look forward to a more open and fair system…where the interests of all parties, especially the motorist, can be better safeguarded.'