Business Times – 10 May 2008
 
By CHEAH UI-HOON
COOKING at home isn't the same as in a restaurant where you're surrounded with professional cookware – which celebrity chef Curtis Stone knows first-hand, thanks to his hit show Take Home Chef.
'The mother usually has a three-month old baby in her arms, and a three-year-old running around, while she single-handedly tries to prepare dinner,' he pointed out during his cooking demonstration in Singapore recently for the World Gourmet Summit.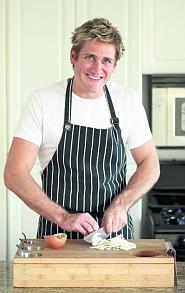 The premise of Take Home Chef, after all, is that the Melbourne-born chef approaches female shoppers at grocery stores (only in Los Angeles, where the film production is based) and asks nicely if they will take him home to cook dinner AND do the washing up afterwards.
After cooking at hundreds of homes, he has now come up with a wide range of kitchen 'solutions' – he doesn't call them cookware – to help the home cook cope better in the kitchen.
'I realised that there were manufacturers of kitchenware who didn't cook, and chefs who didn't know the technical side of the kitchen equipment,' he says, explaining the partnership he formed with Bambis, an Australian distributor of kitchenware that deals with brands like Swiss Diamond in Australia.
Their joint venture company is called Foodfight, and the equipment offers unique, chef-designed solutions, rather than basic products merely endorsed by 'celebrity' Stone.
'We started discussing this idea three years ago,' recalls Harry Pourounidis, of Bambis. He met Stone about six years ago, when the company asked him to endorse Swiss Diamond.
Instead, Foodfight was formed, with Stone involved in every stage of design, he says. The top-seller today is the Chef's Workbench, 'because when you're preparing ingredients, you're constantly reaching over to throw things into the bin', explains Stone, who used his own workbench during the cooking demonstration.
The workbench is a box-like chopping board, with a hole in the corner where you can shove your debris. On the other side, three one-cup-size stainless steel bowls collect your cut ingredients.
The 'Bump & Grind' is Stone's take on the traditional mortar & pestle. The solid cast iron mortar is lighter than granite, and the boat shape makes crushing fresh herbs and spices easier and faster, while the spout is good for pouring wet marinades.
And then there's the 'Juicy' Carving Board, which is set at a two degree angle so juices from a roast can flow into removable, stainless steel channel to use as gravy later.
'Most people know you need to let meat sit before serving, but it usually sits in their own juices if you don't drain it out,' says Stone.
These and about 30 other items will be available at Takashimaya in July, says Pourounidis. Singapore is the second country to carry Stone's cookware range, after it was launched in Australia last year. At the end of the year, the cookware will be launched in the United States and South Africa.
'The workbench is the number one seller so far because it's so functional,' says Pourounidis. For an idea of prices, the workbench is expected to retail for around $350.
He has seen a lot of interest in the solutions from Singapore, which is the fourth or fifth country generating the most hits on Stone's website.
You might not be able to take the hunky Stone home to cook for you, but soon you'll be able to take home one of his designs. Which is a close – if not as satisfying – second, we think.