Business Times – 17 May 2008
 
BT checks out three places that will please your palate as well as tickle your funny bone
Tampopo
177 River Valley Road, #01-23/24,
Liang Court Shopping Centre.
Tel: 6338-3186.
Tampopo Deli, #B1-16.
Tel: 6338-7386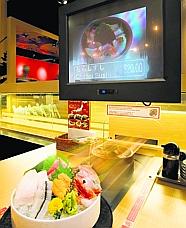 JAPANESE family restaurant Tampopo has raised its culinary game – and not just because it moved up recently from its basement location at Liang Court Shopping Centre to a more prominent space on the ground floor.
In its previous guise, it was a landmark destination for casual dining, popular among locals and Japanese expats for an extensive menu featuring simple, good-quality dishes and specialty items such as sushi, ramen and black pig tonkatsu (breaded pork cutlets) – all at decent prices.
The all-new Tampopo has all this and lots more, including a new-fangled automated delivery system. The restaurant opened a few weeks ago, and the main difference is a larger, spruced-up space and a section with booths built around a conveyor belt system that delivers food directly to your table.
The system is a step up from the more conventional auto-delivery system and was developed in Japan about 18 months ago. It is available in only a few restaurants in Japan. Tampopo owner Takaaki Takagi read about it in a newspaper and persuaded the manufacturer to let him install it here, making Tampopo the first restaurant outside Japan to use it.
Takagi then tied up with a local company to develop bilingual software for the Singapore market. The functions may be basic, but the system allows diners to order via individual touch screens on their tables, and the specific orders are dropped off via conveyor in double quick time. At the moment, the screens are only connected to the sushi kitchen – orders for other items are still taken manually and delivered by service staff.
'This is a test case, never used before in a family-style restaurant,' says Takagi. 'We are still monitoring the impact but we may be able to save about 30 per cent of manpower compared to a similar-size restaurant without the system.'
The ramen at Tampopo has always been good, but it just got a lot better, thanks to the introduction of noodles made from a special high-quality Japanese flour from a supplier in Ebetsu city on Hokkaido. The previous ramen supplier was also from Hokkaido, but used flour from the US.
According to Mr Takagi, the noodles are in such short supply that they aren't even available in most Japanese cities. 'The supply is limited and usually only available in Ebetsu,' he says. 'The manufacturer had to get special permission to export. Before, our noodles were high standard – now, they are super standard.'
Indeed, a sampling of the shoyu new Hokkaido version (made with seafood and pork bone stock, $13.80) lived up to the advance billing. Tampopo offers a few different versions of ramen, but the quality is uniformly excellent. The noodles are firm and chewy, with a distinct flavour. Ramen lovers in Singapore have apparently given the thumbs up to the new version, says Takagi.
Meanwhile, Tampopo Deli, a small cake and dessert counter in Liang Court's basement, is also attracting attention with its Super Light Cheese Chiffon Cake ($5.80 per slice, $48 per cake). The counter was originally meant to supply desserts to the main restaurant but has now attracted its own set of fans. In a market where finding your own culinary niche is key to success, Tampopo is blazing a trail on both the food and fun concept fronts.
By Geoffrey Eu
Bird's Nest Cafe
160 Orchard Road,
#01-13 Orchard Point.
Tel: 6836-6218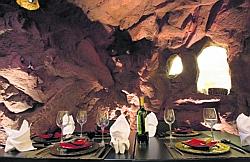 IT may seem bizarre for a restaurant to have part of its dining space decorated to look like a cave for nesting swifts, but for the owners of Bird's Nest Cafe, it made perfect sense. The six-month-old restaurant is the only place in town with a menu based entirely on bird's nest, so they merely wanted to emphasise the point.
The decor could be construed as being a little tongue in cheek, but the owners are certainly serious about making a culinary statement through bird's nest. The cafe, tucked away in a small space in Orchard Point, is a prototype concept and hopefully the first in a chain of much larger bird's nest restaurants in China and other parts of Asia.
Next month, a much larger enterprise, the Imperial Bird's Nest Restaurant, will open in a central location in Shanghai. The restaurant is part of an 8,000 sq ft dining complex that will also include a Western restaurant, the Boston Bar & Grill, which will serve steaks and Boston-style seafood.
'It fits in with the common theme we have within our company,' says Bernard Tsai, executive director of Starcap, an investment group whose companies in aesthetic medicine and medical tourism, art galleries and food and beverage are focused on lifestyle-related pursuits. 'We want people to not only enjoy the food but stay healthy – they will have nice complexions and all the things bird's nest is famous for.'
He adds: 'We decided on a concept where we combine bird's nest with high-end food like abalone. Then as we put it together, we thought it would do well in China. The smaller cafe-style outlet in Singapore is a franchising model, while the company will own all the bigger restaurants – linked with our other companies, we will have a full set of high-end products.'
Signature dishes at Bird's Nest Cafe include braised whole abalone with bird's nest ($88 per person), double-boiled golden melon with seafood and bird's nest ($68) and cod fish noodle with bird's nest and teriyaki sauce ($16.80). There's also a dim sum combination dish with items like siew mai and har gau with bird's nest, and pan-friend carrot cake ($7). The bird's nests are sourced from Indonesia and premium items like abalone come from Australia.
Those who want even more can buy packaged bird's nest products at the cafe. One kilo of the stuff will cost somewhere between $3,000 and $4,000. 'We'll even cook the products for you, any way you want,' says Mr Tsai.
By Geoffrey Eu
Cheeky Chocolate
233, Upper Thomson Road
Tel: 9623 2930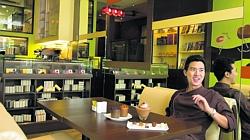 IT all began with a dream. Aaron Choy's dream may not be of the Martin Luther King Jr calibre, since it was about chocolates, but it has certainly given him the vision and drive to set up his own cafe and chocolaterie.
'Being a guy, I don't even like chocolates that much, although my girlfriend loves them,' admits the 25-year-old. But he had a dream sometime last year about selling chocolates, and it was so vivid, at a time when he was looking for a job, that he's been spurred to fulfil it.
Cheeky Chocolate – which opened just two weeks ago – is the result of months of brainstorming for the new graduate, who had studied business in New York. 'Because the chocolates that are available in Singapore tend to be quite straightforward and mundane. I wanted to sell chocolates with more meaning and emotion to them – because we eat chocolates when we're happy or sad; and give them as gifts for special occasions,' he explains.
As a result, his chocolates have names like Happy Hazelnut and Dark & Sexy, instead of just chocolate with hazelnut and dark chocolate; all made with Valrhona chocolate, and priced at an average $2.20 a piece. For the business, Mr Choy took a few crash courses in chocolate-making, but when he finally got the shop in Thomson Road, he realised that he needed to sell more than just chocolates to survive.
'Even if I sold 300 pieces of chocolate a day, it won't be enough!' he says, so Cheeky Chocolates – a bright and cheery cafe – also offers crepes and sandwiches on their menu.
He has hired a young chocolatier to focus on creating chocolates (and desserts), and also a very decent chef who made yummy savoury crepes (check out the Shrooms version which features mushrooms) and an excellent chocolate-drizzled waffle.
Cheeky Chocolate is cheerfully decorated as well, as Mr Choy wants to make the concept welcoming for all kinds of customers, from young families to teenagers to older folk. 'Looking at the Thomson Road area, it's mainly residential, so it might be quieter during the day but we get a lot of business at night,' he says.
For that reason, Cheeky Chocolate offers its full food menu only from 6pm daily, while the chocolates will be available for sale from noon.
Mr Choy's plan is to have a chain of Cheeky Chocolate shops, but for now, it's all about making sure his first eatery solidifies.
By Cheah Ui-Hoon