Business Times – 10 May 2008
 
There are certain gadgets that chefs simply can't do without in their kitchen. They rely on these high-technology aids to churn out their culinary masterpieces. BT Weekend checks out some of them
By GEOFFREY EU
WHEN Janice Wong was a student at Le Cordon Bleu cooking school in Paris, she never used electrical appliances. That's because her instructors insisted on a culinary foundation where everything had to be prepared the old-fashioned way – by hand. All that changed during training stints at top restaurants like Les Amis here and WD50 and Room 4 Dessert in New York, where she was introduced to the kind of fancy kitchen apparatus that brings tears of joy to equipment-deprived young chefs.Nowadays, Wong, 24 – who opened the 2am Dessert Bar in Holland Village about seven months ago – creates inventive desserts with a slew of kitchen gadgets. She is representative of a new breed of chef, both professional and amateur, who are taking their cue from avant-garde celebrity chefs and turning to technology (new and old) to come up with their own style of cuisine.Wong swears by her trusty Pacojet, an innocuous-looking, multi-purpose food-processing gizmo from Switzerland that is used to make smooth and creamy mousses, sorbets and ice-creams directly from deeply frozen ingredients. At a retail price of $6,000, the Pacojet doesn't come cheap. But Wong – and increasingly, others like her – rely on it and other high-tech kitchen aids to make culinary magic.'Once you start using these machines you're spoiled and you don't look back,' says Wong, who also has in her culinary arsenal a blast freezer, a dehydrator, a vacuum packer, a variety of siphons and a smoking gun (a single or double-chamber device that is used to give a smoky aroma to food items). 'With these machines, you can play with flavours and be adventurous, without any hassle.'
According to Heng Cheng Fatt of Ruiter Far East, which distributes the Pacojet, Microplane graters, Bamix hand-held blenders, Thermomat low-temperature ovens and a host of other items, more chefs are adapting to changes in technology. 'When I first started doing this 20 years ago, nobody wanted a vacuum pack machine (which is necessary for sous-vide cooking, where ingredients are sealed in packets and cooked in water at low temperatures) – now, they all need one,' says Heng.
A chef and his favourite kitchen implements are seldom parted – just ask Jimmy Chok, owner of The Academy Bistro and a popular chef-for-hire at private homes. Chok uses a variety of non-stick cookware – he favours the premium Danish brand Scanpan – at home and in the restaurant. 'They are durable and consistent – they are very good heat conductors and distribute heat very evenly,' says Chok. The non-stick pans have a 10-year warranty and range in price from $139 for a 20 cm frying pan to $429 for a 32 cm saute pan with a heavy-duty glass lid.
A great variety of cooking and kitchen gadgets are available here these days, so BT went shopping for some chef's stuff – and came back with a few interesting discoveries.
Razorsharp
315 Outram Road,
#01-03 Tan Boon Liat Building.
Tel: 6227-7515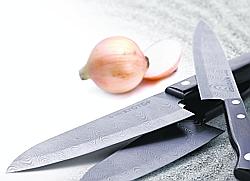 THE first thing any serious cook buys for themself is a chef's knife, and many of the best blades can be found here. 'Any craftsman takes pride in his tools, and a good one will always look for good tools – you are looking for balance and quality of steel,' says David Lim, managing director of Razorsharp. The company carries brands like Wusthof and Kyocera, and also specialty makers from Japan such as Hattori and Kasumi, whose top-of-the-line carving knives, made from Damascus steel, cost about $2,000 for a 24 cm chef's knife.
Ruiter Far East
Block 5, #03-14
Ang Mo Kio Industrial Park 2A.
Tel: 6483-3022
RUITER carries the popular Microplane graters, which are sold at places like CK Tang and Shermay's Cooking School from $48 to $139. Ruiter also carries products such as the Pacojet and the $350-and-up Bamix mixer, a super-duper kitchen helper that is endorsed by the likes of Gordon Ramsay.
Smeg
APS Lifestyle Gallery,
9 Muthuraman Chetty Road,
APS Building Level 1 & 2.
Tel: 6235-1333
ITALIAN kitchen appliance company Smeg's habit of working with well-known architects has resulted in products such as a slick six-hob cooker designed by Renzo Piano. Other eye-catching products include a colourful range of retro, 50s-style dishwashers, washing machines and refrigerators.
Miele
167 Penang Road,
Windland House II, #B01-01.
Tel: 6738-6286
VISITING pastry superstar Pierre Herme held two master classes here during the recent World Gourmet Summit, where he worked with Miele's latest in oven technology – a 90cm built-in beauty from the H5000 series that boasts a host of special features and functions. 'Ultimately,' says Vincent Bourdin, Valrhona's regional pastry consultant who assisted Herme with translation duties, 'Miele has taken the performance of professional kitchen equipment and shrunk it down into a home-size kitchen appliance.' The 90 cm oven will be available in a couple of months.
Metadesign
42 MacTaggart Road,
#01-01 MacTaggart Building.
Tel: 6382-8774
IF you like your Espresso just so but are not equipped with barista-like ability, there's always Lavazza BLUE, or Best Lavazza Ultimate Espresso, a handily compact coffee maker (designed by Pininfarina) that uses a capsule system so every cup you make is guaranteed to be consistent in quality. 'It's user-friendly, yet you still get premium quality coffee, 'says Roberto Albreschi, sales manager of local distributor Metadesign. Two types of capsule coffee machine are currently available, priced at $1,400 and $2,000. Each capsule costs $1.20.
Alessi store at Xtra
9 Penang Road,
#01-01, Park Mall.
Tel: 6336-0688Blue Canopy
290 Orchard Road,
#04-45 Paragon Shopping Centre.
Tel: 6734-3505
CUTE kitchen gizmos always go down well in the gift department, and some of the cutest around can be found in the form of Alessi's 'Chin Family', a salt and pepper set, egg cup and pepper grinder, among other things, designed to look like members of the same Oriental family. Equally colourful items can be found at Blue Canopy, where figures atop a dishwashing brush and cheese grater from the French company Pylones are dressed in national costumes. There's also a kitchen timer that will keep the kids occupied when it's not being put to culinary use.