Business Times – 02 Jun 2008
 
NEW MENU
Summer Pavilion
Level 3, Ritz Carlton Singapore
Tel: 6434 5286
SUMMER Pavilion has got to be one of the more under-rated Chinese restaurants in Singapore. More than just a place for tai-tais who lunch, it's where you can find very refined classical Cantonese cuisine prepared by its master chef, Fok Kai Yee.
Chef Fok can certainly hold his own against other top Chinese restaurants in town, but maybe it's the discreet, formal as opposed to friendly service that makes diners feel that a meal here is a little too stuffy for comfort. It doesn't have the warm, bustling ambience of, say, Hua Ting, Imperial Treasure or Peach Garden, and you do tend to feel lost in this large ballroom-like space. On the other hand, the resulting space and privacy you enjoy here as a result probably suits its regular patrons just fine.
When comparing Chinese restaurants, we like to use an unrefined, but rather effective, yardstick. It's called the cha shao bao (char siew pau) test. Even top restaurants have been known to score poorly, serving buns with too sweet fillings or dough that is fluffy but afflicted with dampness from improper steaming. Summer Pavilion passes the test with flying colours for its moist buns that are fluffy yet with a nice chewiness, coupled with tasty filling that isn't too sweet.
It augured well for what was to come – Chef Fok has added a string of new dishes to his menu and they are all good. A must-try, if you are not averse to shark's fin, is the Double-boiled Shark's Fin with Bamboo Pith and Chinese Cabbage in Superior Chicken Stock ($52) – a milky broth resulting from seven hours of double-boiling is thick without being too unctuous, with a generous amount of fin almost spilling out of the bowl. Bamboo pith, meltingly soft cabbage and a tasty piece of chicken meat complete the treat.
While your goosebumps may rise at the thought of eating braised crocodile skin with wild mushroom in superior chicken stock ($18), it's hard to resist the beautiful gelatinous texture of the crocodile skin. Yes, the bumpy surface and squeamish thoughts do intrude a little into the dining experience but if you're a fan of gelatinous shark's head or fish eyes from fish head curry, you are going to like this. If not, then indulge in lobster ($21 per 100g) done in a myriad of ways, starting with the whole lobster steamed with egg white custard – the clean tasting shellfish and the yummy egg white flavoured with stock and served with broccoli makes a healthy dish.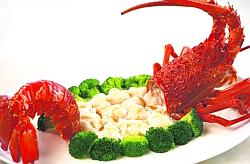 For something with more oomph, check out the fragrant wok hei (essence) that wafts from a claypot of fried lobster chunks with Chinese wine. A generous showering of garlic, spring onions and ginger adds heft and flavour.
And finally, who doesn't like lobster noodles, but this time in a light lobster broth with bits of lobster meat and al dente noodles made from fish meat.
The noodles here are better than what you get elsewhere – they've got a nice bite, don't taste like you're eating pure fish paste (in which case we'd rather have it as a fish ball) and have a nice noodle-y texture with a pleasant aftertaste of fish.
Considering that a plate of braised goose sailed past us and still looked mighty appetising even after all that lobster says one thing – Summer Pavilion may not be on everybody's radar, but it's certainly worth re-discovering.
Rating: 7.5/10
By Jaime Ee