Business Times – 16 Apr 2008
 
PM Lee describes ride as 'enjoyable and spectacular'
By LEE U-WEN
FIREWORKS and lasers lit up the Marina Bay skyline last night as the world's largest observation wheel was officially opened.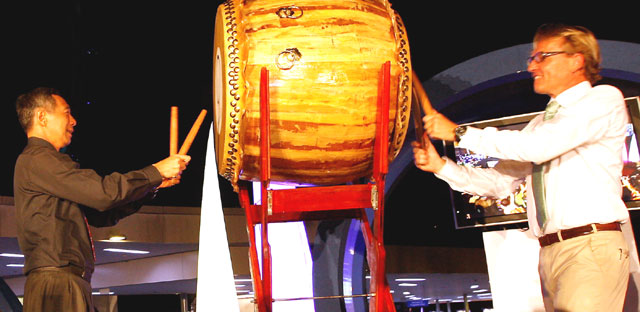 Gracing the festivities at the Singapore Flyer was Prime Minister Lee Hsien Loong, who made his first trip on board the $240 million attraction.
Speaking to reporters after a half-hour ride on board one of the 28 capsules, Mr Lee described the experience as 'enjoyable and spectacular'.
'We have a beautiful city and this is a remarkable view of it,' he said. 'The Singapore skyline is constantly growing and changing. The Flyer is an addition to that skyline, as well as to view the city around us.
'I'm very happy with the project. It's on time and it has achieved what we hoped for. We are optimistic it will do very well (with regard to) passengers and become one of the busiest flyers in the world.'
Also at the opening yesterday were 350 guests, including families and the elderly from various grassroots and social welfare organisations.
The Singapore Flyer board and management also presented a $28,000 cheque to The Straits Times School Pocket Money Fund, which was received by Straits Times editor Han Fook Kwang.
The 165 m tall Singapore Flyer took over five years to conceptualise, plan and build.
It was opened to the public on March 1, after a soft launch on Feb 11 for corporate customers. The attraction is expected to draw about 2.5 million people in its first year.
It is seen as a key part of Singapore's plan to grow tourism and attract 17 million visitors by 2015.